Now that Easter is out of the way, it's time to plan for summer – and with this great season comes barbecues.  Everyone loves a good barbecue.  They're great as they can begin at around lunch time and last until way after the sun has gone down.
For such an event, you'll need three things when hosting – food, drinks and disposables.
Here at Cater For You, we take barbecues very seriously so have put together a couple of BBQ Party packs which we feel are the essential 'must-haves' this summer as they include plastic glasses, plates, cutlery and much more.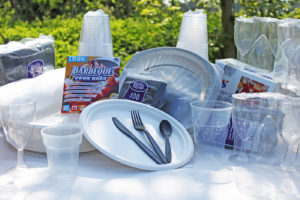 Pros and Cons to our BBQ Party packs:
Pros:- Great value for money, disposable, saves washing up, all you'll need in one pack.
Cons:- The glasses aren't crystal, cutlery isn't sterling silver.
We have two options for the BBQ Party packs – Quality BBQ Party Disposables Pack and Value BBQ Party Disposable Pack.