Considering the recent weather, it is now safe to announce summer is most definitely here. Hot sunny days, hot starry nights and ice creams melting faster than they can be consumed. This means that the sunglasses are dusted off, the shorts are on and the socks should be kept as far away from the sandals as possible.
Enter barbecue season.
We Brits welcome this time of year like a prowling cheetah would a three-legged gazelle. We can't believe our luck; three days in row with no rain and possibilities of a sunny weekend as well! There is no way we are missing out on this opportunity. Like that time you found paper money down the back of the sofa. Such a rare occurrence that it causes us to do flips and twists just thinking about our summer wardrobes.
First thing's first, though – a barbecue must be arranged. Not just any barbecue. One that will make the neighbours envious of your hosting abilities; one that will be the highlight of the summer or even year! This will be the barbecue of all barbecues. Your peers will be cheering your name and telling tales of this event for years to come so preparation is key. Let's not forget the old motto we learnt in school 'By failing to prepare, you are preparing to fail'.
Priority when planning a barbecue is almost certainly going to be the food. What exotic array of meats shall be served, to make kebabs or not, do you serve sausages on their own or in buns like hot dogs? All very important questions, however, many forget to think past the cooking stage. This can lead to devastating results including a shortage of plates, cutlery and glassware.
This is where we come in. How often have you been at a barbecue where the host is serving food on their finest china plates to compensate for the generic 'special offer' food bought last minute at the local supermarket and serving tepid beer that is neither refreshing nor any way enjoyable. This type of barbecue is usually followed by multiple piles of washing up, which can easily be confused for a city landscape, that doesn't all fit in the kitchen as well as the uncomfortable conscience-stricken feeling while leaving and glancing at what was, once, a beautiful garden.
One simple solution – disposable barbecue packs. Included in these packs are plates, cutlery, glasses, napkins and even a free chef's hat! There is enough of each to cater for a small army and best of all, everything is paper or plastic so can be thrown away and/or recycled! No longer will you fear handing that neighbour, whose garden rake is still in your shed because you forgot to return it four summers ago, a china plate of food that he'll probably drop out of spite. No longer will you have to book three days of work afterwards just to conquer the washing up as all you have to do is simply throw everything away. It really couldn't be any easier!
All this time saved can be spent having a good time. All the money saved can be better spent on the food and beverages. And all the leftovers, well, there won't be any as the barbecue will be so good you and your guests won't want to leave any.
Football fans?
With the World Cup this year being held in Brazil, many of the games will kick off in the evening. This is perfect timing for the post-barbecue food coma where you're usually unable to move unless it is to get another drink. It is at this point where parties tend to disperse. Often due to tiredness or other commitments (polite way of saying 'I'm bored') so keep the men of the party occupied with the football while the ladies of the group enjoy a temporary, peaceful nirvana as the sun sets over a still beautiful garden.
We have two different barbecue packs available; a value barbecue pack as well as a premium option.
They include the following items:
Value BBQ Disposables Pack
100 x Paper Plates
100 x Plastic Knives
100 x Plastic Forks
100 x Plastic Spoons
50 x Disposable 'Flexy' Pint Glasses
50 x Disposable 'Flexy' Half Pint Glasses
20 x Disposable Wine Glasses
125 x 2 Ply White Paper Napkins
4 x BBQ Cooking Bags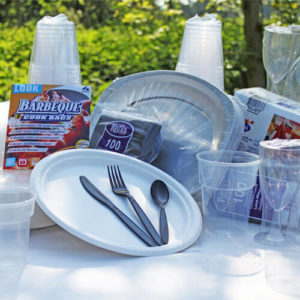 Quality BBQ Disposables Pack
50 x 10″ Bagasse Plates
100 x Heavyweight Plastic Knives
100 x Heavyweight Plastic Forks
100 x Heavyweight Plastic Spoons
50 x Disposable 'Katerglass' Pint Glasses
50 x Disposable 'Katerglass' Half Pint Glasses
20 x Classic Disposable Wine Glasses
125 x 2 Ply White Paper Napkins
10 x 35cm Foil Serving Platters
4 x BBQ Cooking Bags