White Cupcake and Muffin Cases
We stock a range of white paper cake cases which are ideal for baking professional cupcake and muffins.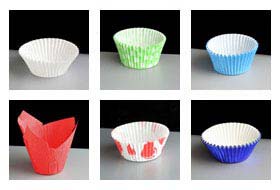 Other Cupcake Cases and Muffin Cases
We have a full range of cupcake cases and muffin cases available, our ranges include white cupcake cases, coloured cupcake cases, polka dot cupcake cases, tulip muffin cases, patterned cupcake cases, foil and metalic cupcake cases and silicone cake and muffin cases.
Click to view these products.
Please select next action