Plastic Wine Glasses
Plastic wine glasses are ideal for outdoor events where use of standard glass isn't suitable.

Over recent years, manufacturers of plastic wine glasses have produced a greater range of shapes and sizes that are of a far superior quality compared to years gone by. If you order a glass of wine at an event or venue where glass is not permitted, the chances are your drink will arrive in a more elegant and suitable plastic wine glass to consume from.

Below is our current range of plastic wine glasses we have available to buy on-line from our stock ready for fast delivery. Please also use the filtering options to help with your selection including disposable for one off events, reusable for washing and limited number of sessions or unbreakable which is the ultimate in wine glasses safety and can be dishwashed up to 500 times, ideal for busy venues holding events and functions. The CE stamped filtering is for venues that serve licensed measures and will save time pouring wine straight into a glass rather than via a measured pourer.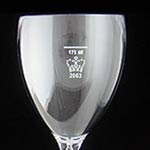 125ml, 175ml, 250ml & CE Stamps?
If you are a licensed establishment serving wine and you are not measuring the wine out before pouring it into the glass then you will need lined plastic glasses that are CE Marked.

- A small glass of wine is a 125ml measure
- A standard glass of wine in most pubs if a 175ml measure
- A large glass of wine is a 250ml measure

We stock plastic wine glasses with one, two or all three of these measure lines to suit whatever size of glass you are wanting to serve, all these glasses are CE Stamped.
Plastic Wine Glasses Compared
Below we have a taken a snapshot photo of our range of plastic wine glasses which tries to show the difference in sizes between them all. Photo correct as of March 2015.